Philippe Di Méo, dreamer and doer
Polymorph and protean like water, Philippe Di Méo's essence is hard to grasp in just one word. At the beginning, I was expecting to meet a perfumer. Instead, I found myself in front of a much more complex character: a man or ideas and actions, graphic and olfactory designer, road opener and instigator, with a high propensity for diverting, overturning and reconstructing meaning.
Coming from a graphic and industrial design background, Philippe has quickly realized that, for him, everything could become a playground for exploration, reflection and creation. The world of graphic, visual, formal, olfactory or gustatory expressions – and potentially all other sensorial experiences – is just means to an end. The purpose is to create, create, create, without boundaries and through the most relevant supports.
One of his first cases of meaning diversion was to reconcile organic food and gourmandise, two notions that were at odds not so long ago. This is why he decided to open an organic restaurant in Paris back in 2002, at an age when organic food was still believed to be part of a hermit diet… The series of diversions continues with a collection presented at the Salon Maison & Objet in 2009, where Philippe "dares" to reclaim the link between eroticism and the art of the table, connection repressed in time by the bashful modern society. Other artistic projects such as the installation Liquid Mirror (Designer Days, Paris) and the Haute Cuisine Days in tandem with Christophe Adam and Alexandre Vauthier (Jardins du Palais Royal, Paris) testify to its creative and subversive effervescence.
Among all these projects, there is one that stands out for its span and cohesion: Liquides Imaginaires, the niche perfume brand created in 2013 in partnership with David Frossard. This brand is a concentrate of Philippe's personality and interests. We can find here his fascination for water, the ultimately dual and mystical element, his longing for transcendence and sacredness, his urge to overturn norms and the systematic, almost compulsive, need to return to the origins, but in a contemporary way. Built in triptychs, this brand is for Philippe a way to recuperate the original, patrimonial stance of the perfume, that of interface between men and gods. Under the sign of elevation – from profane to sacred, from flesh to spirit, from shadow to light – Liquides Imaginaires is a full-scale exercise of conceptual, strategic, olfactory and visual consistency.
During the meeting with Philippe in his perfume bar, Liquides, 9, rue de Normandie, in Paris, we decided to explore precisely two salient themes: his creative polyvalence and the return to the sacred through the perfume.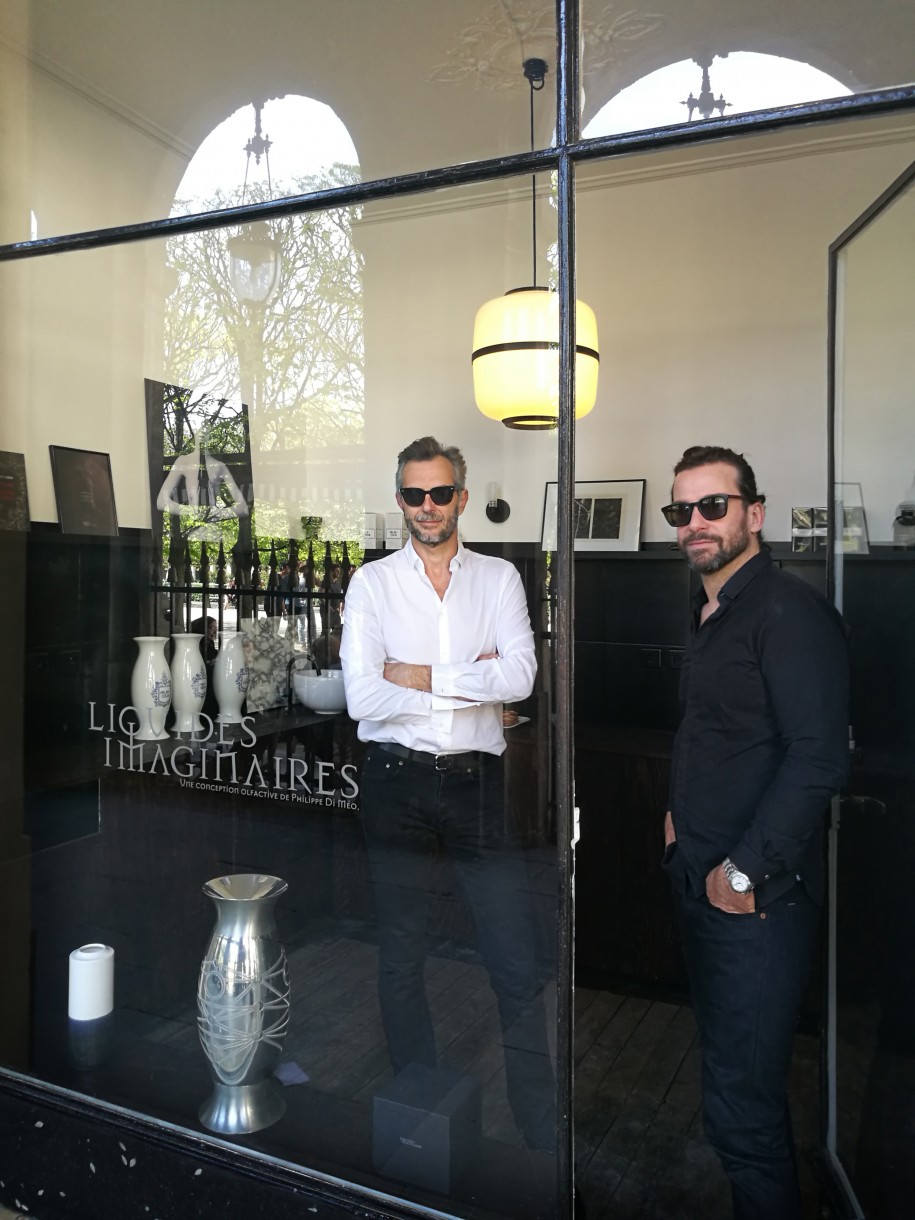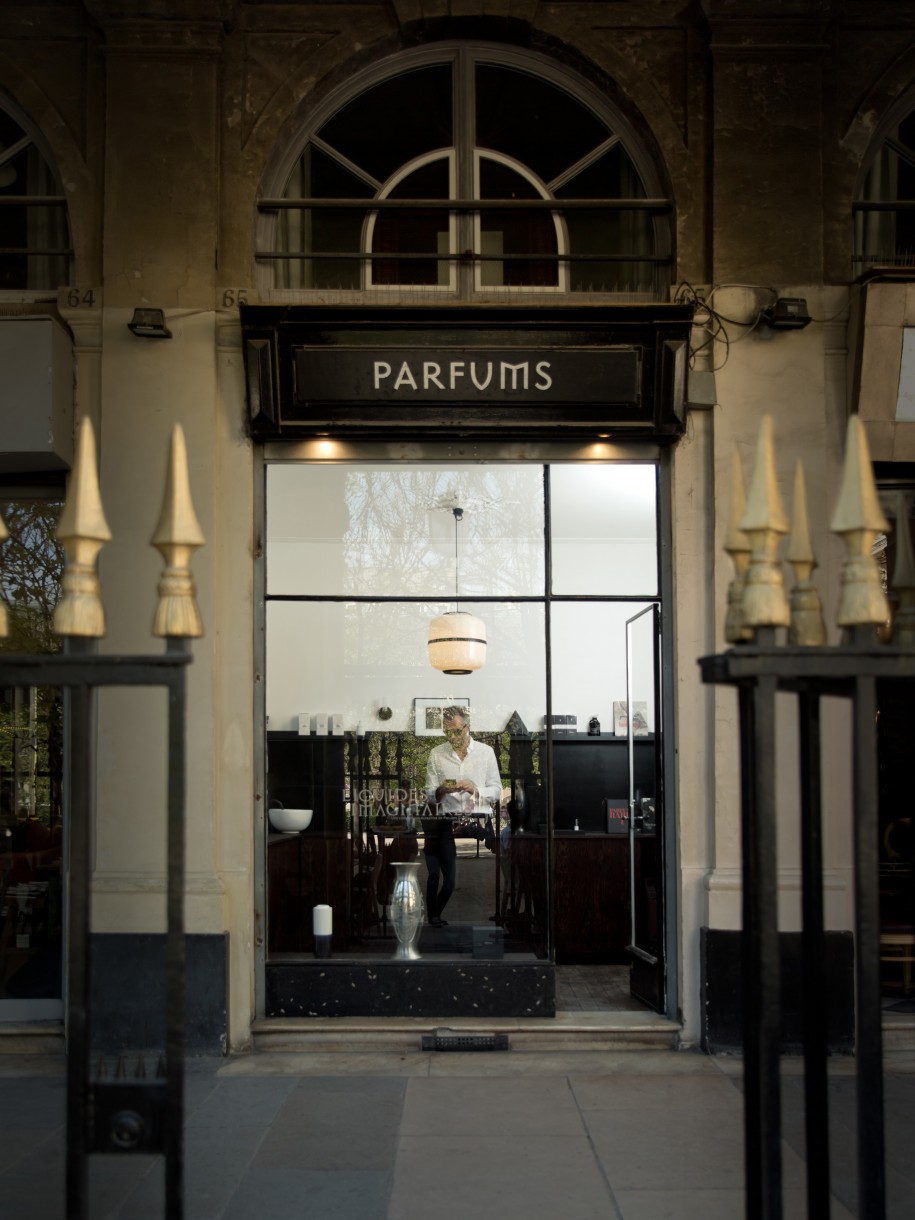 The polyvalence
Where does your versatility come from? And what is the common thread between all your apparently varying projects?
It's first of all a way to escape boredom, to multiply projects, to energize myself. Avoid a certain routine. I've been working for a long time in the creative business, where you have to question yourself, continually search for new challenges. It sounds a little too obvious, but in fact, if you really do it, it means you embrace the unknown. Say yes, I'm going to reclaim a new territory, a new field. This is the engine of my appetite for diversity.
But, at the end of the day, although I venture into the unknown, I only venture into areas where I feel that – and I'm saying this without any pretension – I have something to express. There are areas where I will never go. I don't have an ability to answer everything, but in everything I do there is a connection. This is often the liquid as state of the matter, consistency and symbolism. It's a frequent theme for me: Liquid Mirror refers to water. So does Liquides Imaginaires, and many other projects.
The other "red thread" is often all that pertains to the senses and, implicitly, to pleasure. It was also the case of this project to tackle the table art from an erotic angle. The idea was to take something from the ​​French values and heritage, something rather well installed, and then hijack it towards eroticism which was, by the way, not part of the art of the table, but full part of the French culture. Gastronomy has rubbed elbows with something more sensual, but this dimension has gradually disappeared or, on the contrary, has grown into a convention: the art of receiving, almost a form of very boring protocol. It was this lighter part that was more fun. A pretext.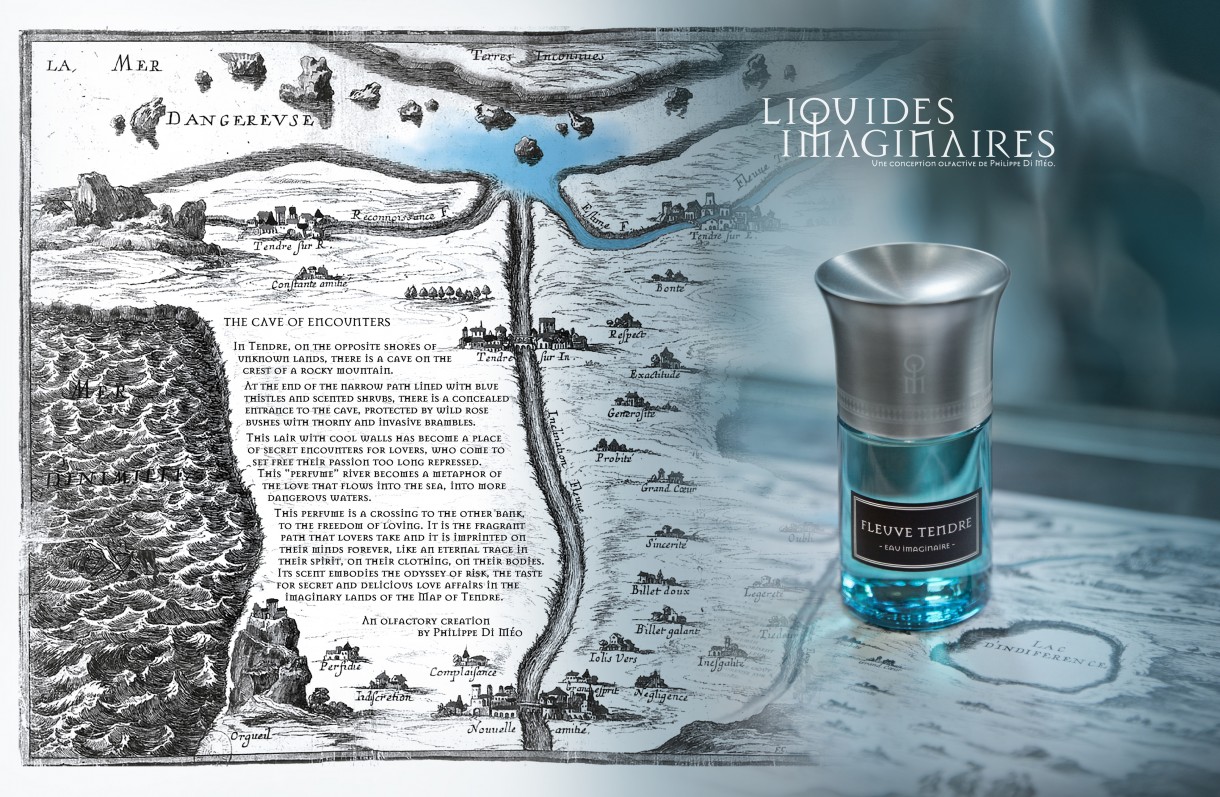 Speaking of pretexts, what place does the design currently occupy in your life?
Design is just an excuse to approach other fields. The advantage I see in the design, if I have to summarize it in an over-simplified way, is that it is a method to answer to a brief. To produce something. In the end, there is a production that is expected, in large or small quantity. My mind was moulded by the idea of ​​having to deal with constraints. It is true that I like to have total freedom in the things I do, but also to integrate specific requisites. A goal to meet. I could have made myself known by making chairs – which is some sort of Grail for any designer, to have a chair :) – but I personally prefer more narrative areas. This allowed me to work both at an identity and product level, always including the notion of ritual. This is also why when we talk about gustatory pleasures such as eating, drinking or about something more sensual, there is always a part of ritual. A gesture, a practice, a different way to consume. It's always interesting to try to shift them a little bit.
How would you introduce yourself in front of an unknown person, outside the Parisian context?
It's complicated... when we do not know each other, we always look for the simplest definition. I usually tend to go back to my first métier, the designer one, even if it's reductive. If I have to sum up in one word, I realize I feel more comfortable with the word "creator". Even if "designer" means almost the same thing, there is more openness in creation. I don't want to have a constraining "label".
Do you consider yourself a perfumer?
Today you were expecting to see a perfumer, but, no, I am not a perfumer and I don't claim to be one. I don't want any ambiguity about that. Perfumery isn't my area of expertise. I can have olfactory intentions, which is my case. I have ideas that I express through themes and words. It's like I should imagine a table and I would ask myself which essence or material I should use. In that case, I would ask for the help of a cabinetmaker.
I enjoy working with a cabinetmaker just as I enjoy working with a nose. The advantage is that we speak different yet complementary languages. There is neither power clash nor competition; on the contrary, it is only meant to build together something stronger, more creative.
Tell me three elements that define you.
In my creative approach, there is always a part of storytelling, something narrative. Not a radical kind of storytelling. I am not the only one to claim this, many other people tell stories. Actually, I don't really like this word, because it sounds a little banal, but the truth is that I have a narrative design approach. Contrary to other creators who will first draw a sketch, my first reflex is to write. My first creative intentions come out with words, and not as a sketch. The drawing comes in a second time. In my agency, this is one of the strengths, as it already happened to answer to briefs without showing any graphic design. Just by presenting ideas and concepts. The client generally wants to see, more than ever before. Answering with words or a page of text means taking a risk, but it is eventually more rewarding: it leaves place for imagination which allows to express something more lyrical, without getting stuck into some early execution.
Secondly, the ritual. I was always good at overturning things, bringing alternative views to the way people did things out of reflex or just because it was taboo. Talking about restaurants and eating conventions, there are installed habits and ways of doing which are hard to challenge. Today people are more and more open-minded, the habits have evolved, but there are still some hardened reflexes.
And, thirdly, a real headache sometimes: I am very, very impatient. This always plays me tricks. It can be good when things need to go fast, but it's not always the case…
What do you wish to achieve or convey through creation, for you or for the others?
Ideally, when we create something, we do it out of the will to bring something new, that embraces a part of the unknown, which triggers astonishment. The thought of being into the standards terrifies me. In this neighborhood [République/ Marais] there are many new places, all displaying the same well-defined codes. At the same time, this reassures a part of the clientele which is at ease with the already digested codes... this also makes it hard to initiate something new, because the vast majority of people prefer to be reassured by things that they have already known. It's the same with perfumes. People are accustomed to certain odors and it's a challenge to present notes that are out of sync... I admire creators who don't compromise.
Could you give us more details about your openness for the unknown through the creation process?
This is my fétiche word for 2018! Succeed in convincing the audience that the unknown it's not something to be afraid of. It's the unknown that leads to dreaming and everything related to the oneiric part. The creative profession has watered down lately. Today, we have less guilt in developing "me too" strategies, without a real vision. The creators are at ease with embracing a marketing dimension in their work, whereas before this was less the purpose of creation. We had more freedom. The creation world is split in "explorers" and "executants". Fortunately, I have always been placed in the first category, I've always had a lot of freedom.
Which are the things that nourish your creative capacity?
My references vary from one field to another. In terms of matter, the liquid is something that I find very interesting. It's moving by essence. I find in it a great freedom, evolution, transparency and sensuality, of course.
In the world of perfumes, what inspires me the most is the black romanticism. A Baudelairian touch: the light that emerges from the dark, extracting the beauty out of the evil, I think it's an interesting but scary exercise, especially in France. Abroad, we have fewer problems with this phenomenon. In France, perfume is regarded as something shallow, gourmand, light. Here we're not going to look for depth in a perfume, whereas in countries like Russia or globally in the Eastern Europe, people don't have a problem with that. The mystery is for me a big source of inspiration, because the mystery involves a part of unknown which I personally find much more exciting than everything that stands into the light.
Then, everything that is patrimonial. Not in a nostalgic way. It's interesting to start from a foundation, not for the already lived part, but in the sense that there is a strong value that has persisted in time. Today, if this value would still exist, what would it be? How would we experience it? We can apply this to food, for the deep-seated side. Go to the source. The roots. Dig and search for a form of depth, a way out of doing copy/ paste of the things that are in the zeitgeist. One won't necessarily succeed in this exercice, but it's our duty to try at least.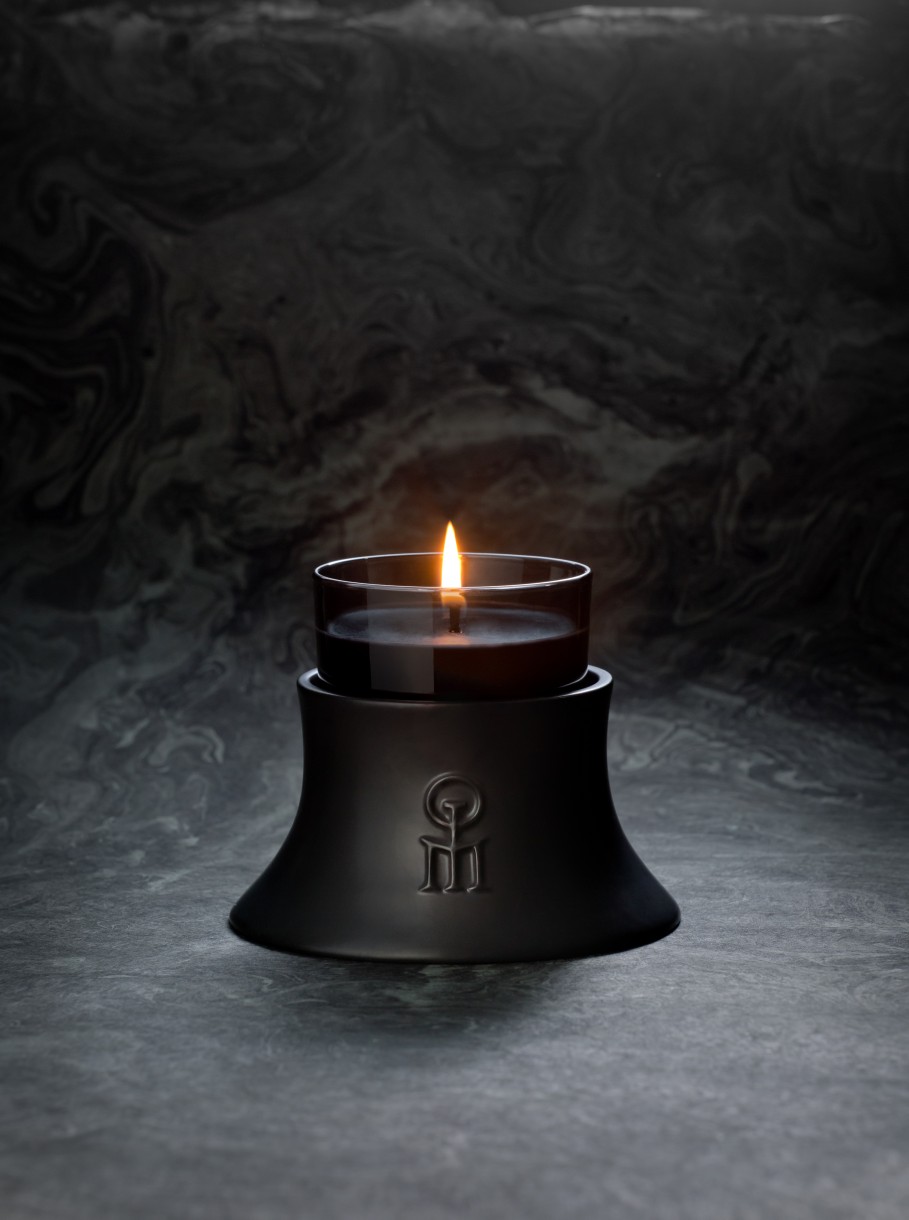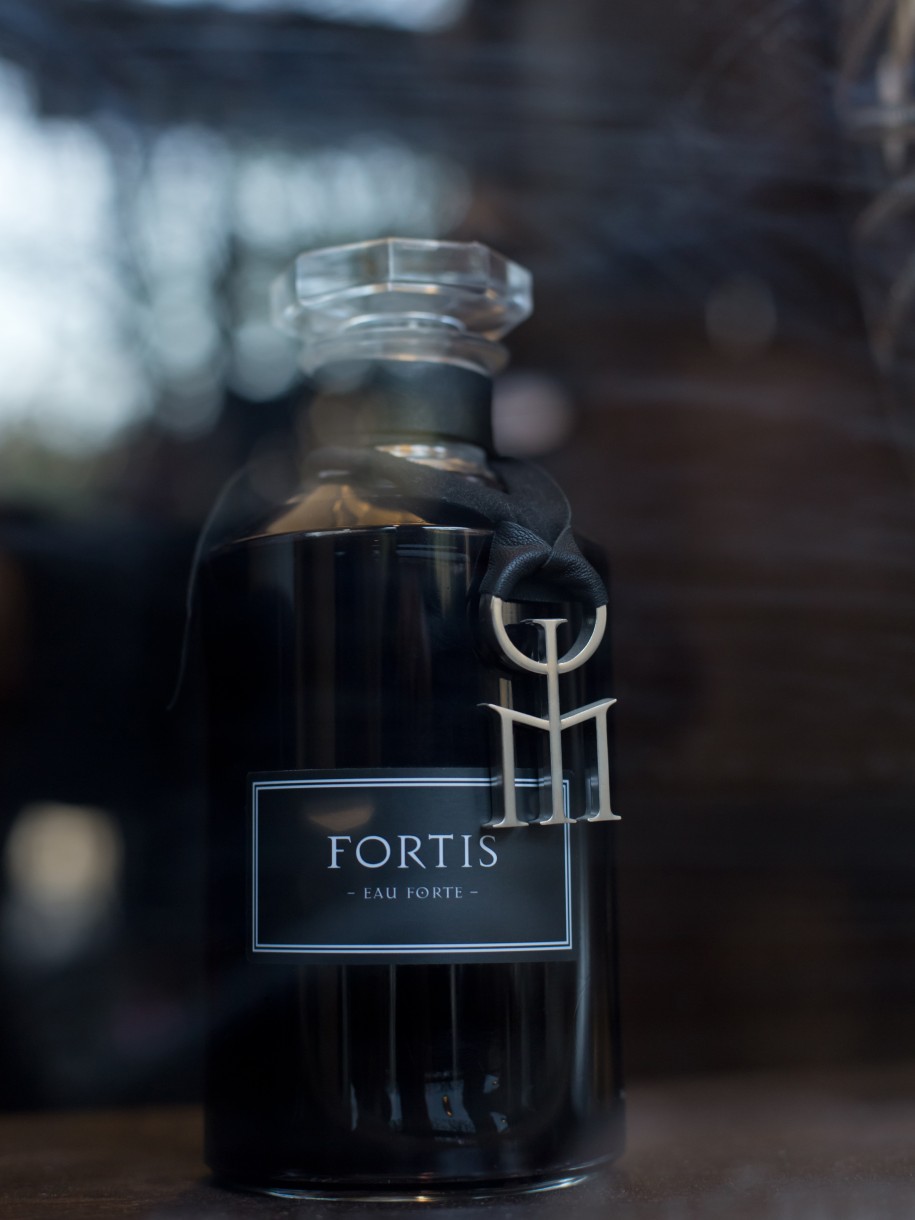 Back to the sacred
How did you develop the idea of sacred?
There isn't such thing as hasard. I don't believe in hasard at all. There was necessarily a fertile ground. To be honest, when I decided to do the exhibit about perfume, I didn't even know that the perfume was linked to the sacred to such an extent. This is why I have decided to develop the theme. As a designer, I had previously worked for many perfume brands – Guerlain, Paco Rabane, Jean-Paul Gaultier –, but none of them, at any moment, didn't talk about the sacred origins of the perfume. I assumed that not many people knew about this, except some perfume pundits. People think that perfume was invented for humans, whereas it was invented for gods. This deserved to be brought back into light.
As I was saying, the patrimonial side it's not about saying "before it was much better", but to recall that, in the beginning, perfume served a purpose, it was much more than a beauty accessory. It was much more engaging. It means we are about to alter a noble material and turn it into just a tool for smelling good or for seduction purposes. It's not incompatible, but maybe it's worth reopening the debate.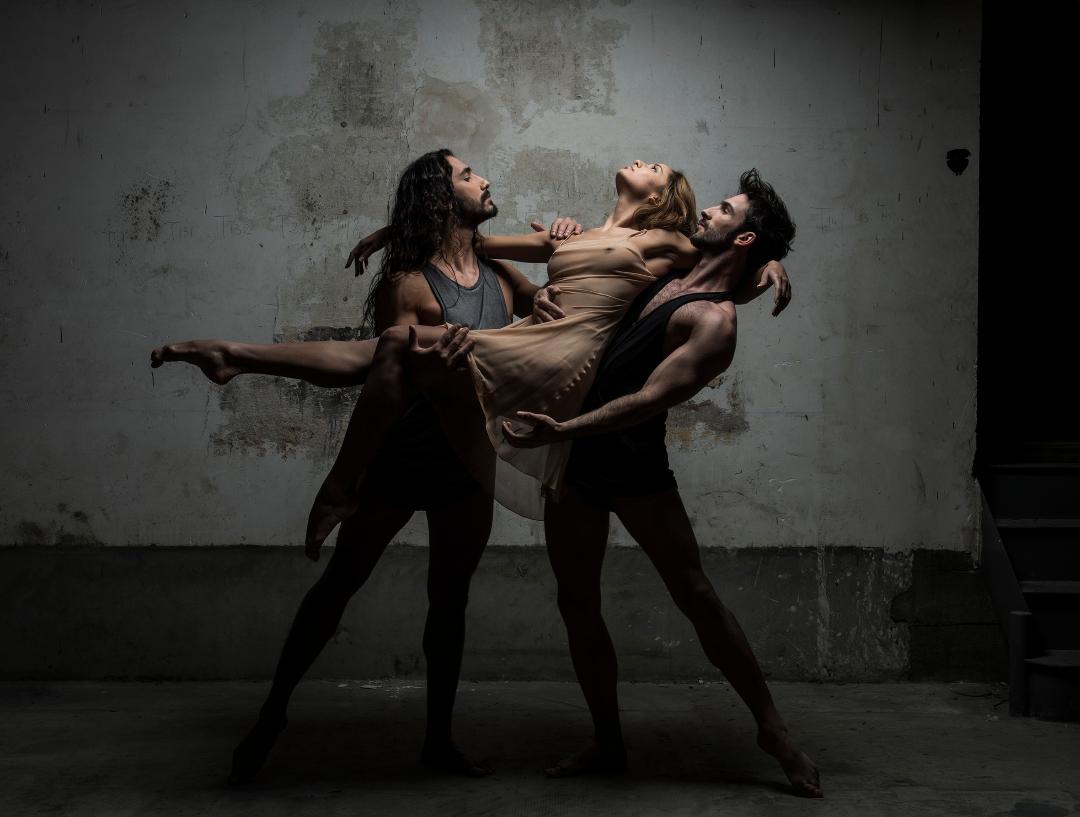 Where did the idea of your first trilogy come from?
Long ago, I had registered "holy water", without knowing what I would do with that. I was thinking that it would be interesting to create a water brand, a purifying and meritorious liquid. It was a beautiful idea. When I was asked to do the exhibit about perfumes, that was the moment when I connected the holy water to perfumery and its sacred origins. Except that holy water is odorless. So, the first question was: if holy water would have a smell, how would it smell like? Sancti brings the answer. Water infused in the stoup, in that mineral environment. There is also the incense, which is the dominating note in a church. As churches are generally a dusty place, in order to create a contemporary incense, we had to boost it with bergamot, cypress and rosemary, which freshen the whole. In the end, we're reached a balanced duality between the spirituality of the incense and the luminous vigor of the herbs.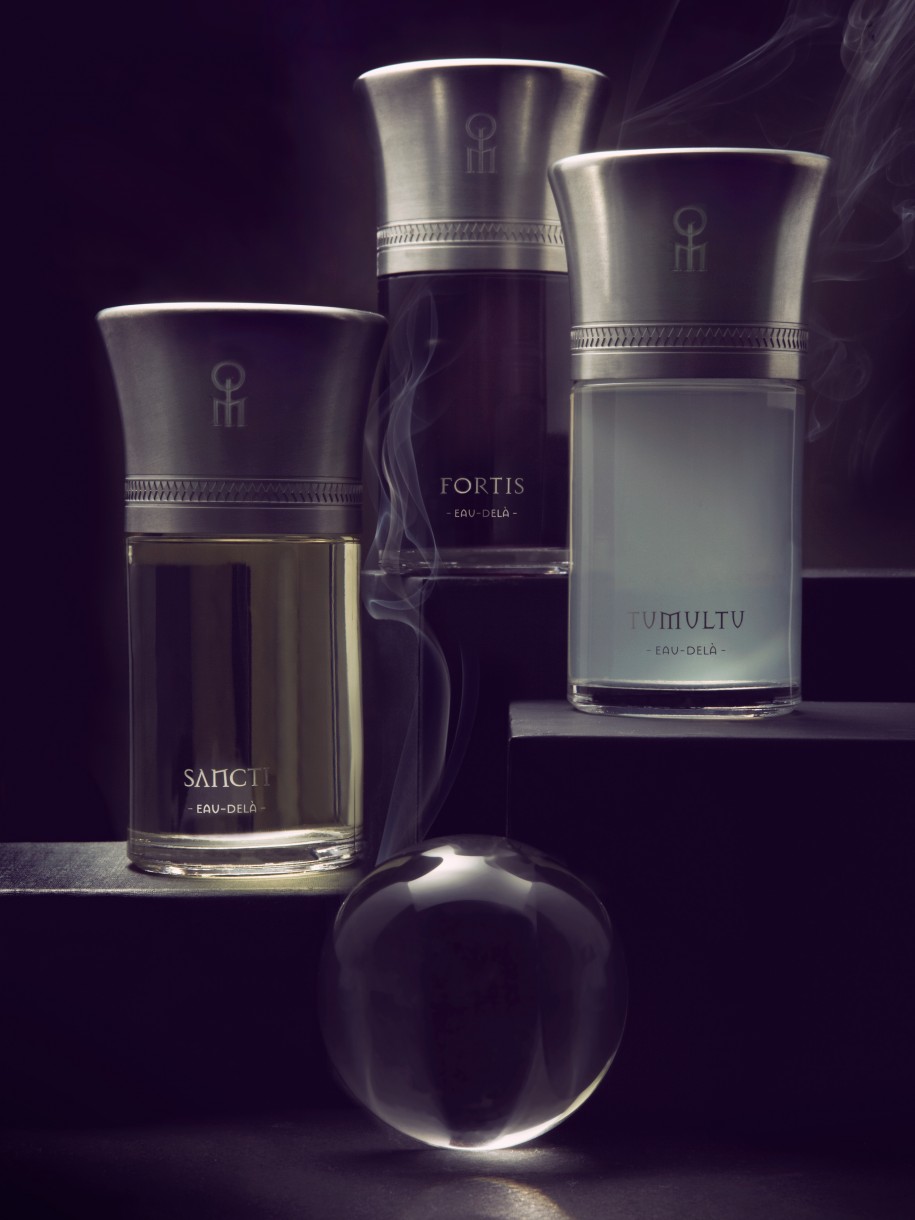 If the perfume has the power to bring an invisible dimension of protection, if the perfume can re-nurture us or reconnect ourselves with our original, primitive and animal nature that we've repressed in time, it's definitely something that I'd like to capitalize on. The brand Liquides Imaginaires is built with this conceptual and narrative intention. Even in the broader sense than the sacred, the notion of elevation evokes the passage from the material to the immaterial world.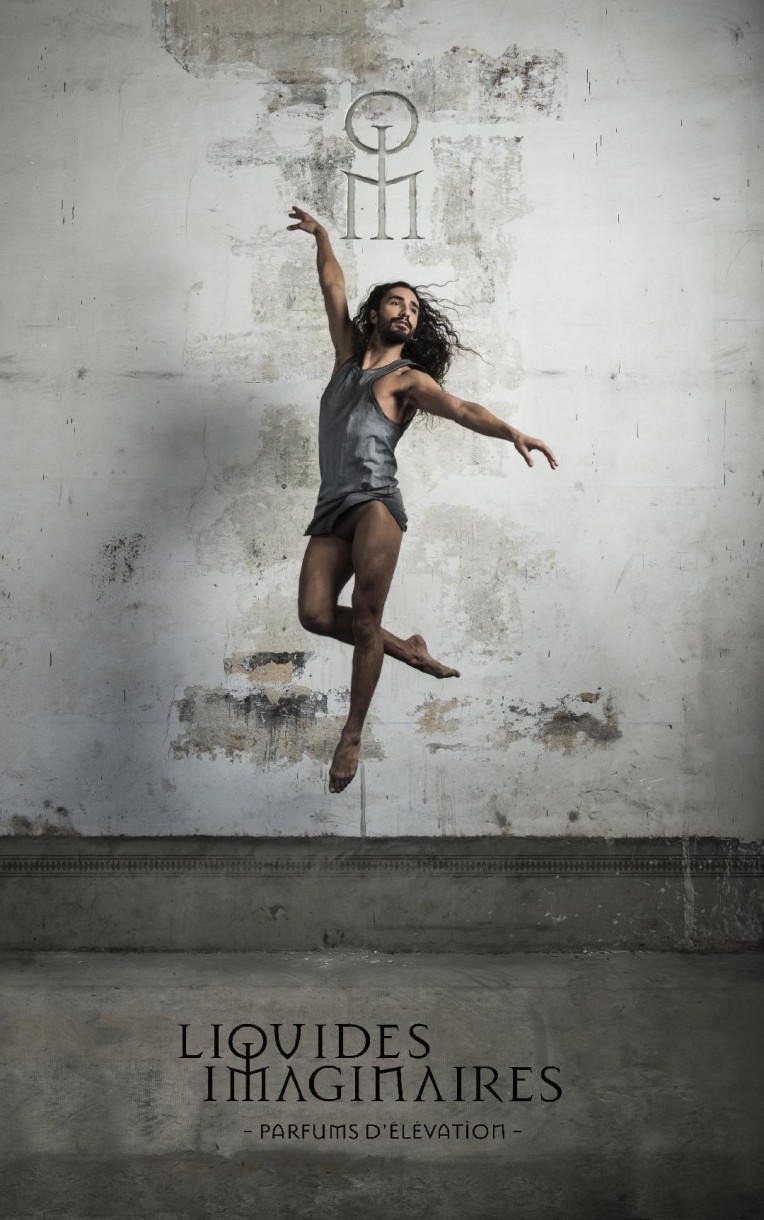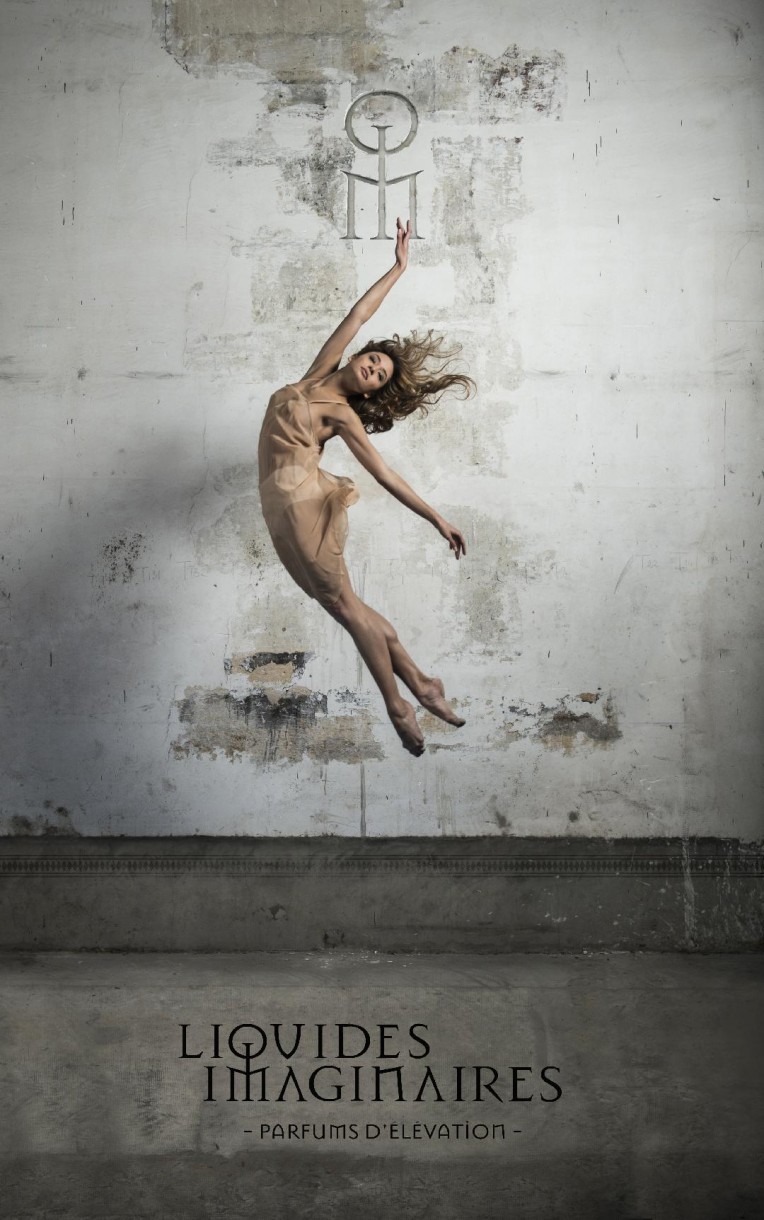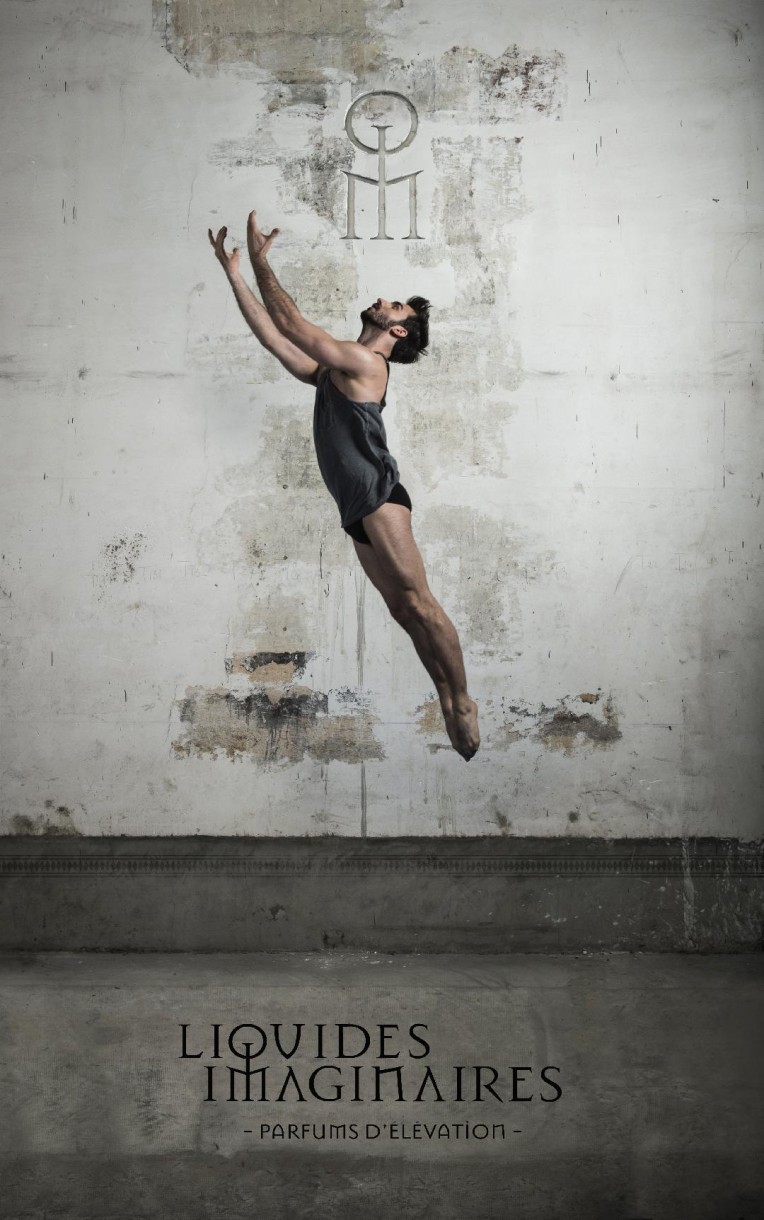 What is your own sacred place?
It's rather an environment than a specific place: when I need to resource myself, I go to the sea. The aquatic world, the sea, is my dear source of inspiration and serenity. The duality of the water as an element, equally serene and dangerous, calm and unsettled, visible surface and hidden depths. This gathers everything that enlivens me. I love duality, when one side nourishes the other. It would be utterly boring to have only qualities and zero defects, isn't it? :)
Another "sacred" place for me is the place where I've just settled. I attach a lot of importance to space, I don't make random choices. If I decide to invest in a place, it's really because there is something, more than a crush, something that goes beyond a beautiful volume, when I feel that this place was waiting for me, that it was made for me.
Thoughts about the niche perfume business
How can a brand stay authentic on a market in love with fabricating stories?
What I reproach to the perfume business, even in the niche, is that there is too much nostalgia. It's the easy way: nostalgia and perfumes are intimately embedded. But why should we always use perfume as a way of going back into the past?
Personally, I believe in coherence. It has always been important to me. I find that there is nothing more beautiful and stronger than something that is coherent from A to Z: from the choice of the name, to its iconography, its visual identity and its human aspect. The brand is about consumers, but it is also about the people gathered around the brand from the inside, with their creative talents and their personal contribution to the brand universe... If everything is coherent, if everyone is driven by the same will, I would tend to believe that the brand can become perennial. In any case, honesty is a prerequisite for durability.
Today, the niche market is not so small anymore. We now have big players in the market. Proportionately, there have been more new launches in the niche than in the selective distribution in 2017. Which is understandable. Compared to fashion, for instance, we're not talking about the same investment. It's easier to launch a fragrance brand than a fashion line for someone who has a certain financial comfort. The entry barriers are lower and, besides, it brings immediate reward.
What does it take to succeed on the niche perfumery business?
Success surely requires originality. This helped us a lot. The product, the brand territory, the high quality bottle, looking more like an object than a bottle, everything is original. Some time ago, a former client pointed out to me that he had not even written the word "perfume" on the bottle. Out of the context, we are not in the stereotype of the perfume bottle. The name also brings a form of originality. Maybe I do not make enough concessions...
Where is the market going?
There is much confusion between the niche and the selective distribution. Of course, there are many borderline players, brands that we don't know whether to place them in the niche or in the selective retail – even though they do it very good. The various acquisitions didn't help. They brought even more confusion. I think there will be a great "cleaning" in the niche, but rarity will continue to be precious.
I'm going to make an analogy with the world of the cuisine, which I know very well. In 2002, when I opened what I consider to be the first contemporary organic restaurant, there were only those macro organic restaurants, where no one really wanted to go. It was believed to be for sectarians or for people with deficiencies. The only organic retail network was "La Vie Claire", no other retailer, and it was a hassle to find the right supplies. This was back in 2002. Since then, the cuisine has completely exploded. The chefs have grown widely famous, they have been glorified as creators, which wasn't the case before. Those people were previously living in the shadow, except some of them rated by Michelin. But even in that case, we often knew the name of the restaurant, and not the chef's name. Today, chefs are stars, regardless their age. The perfumer hasn't yet known the age of glory. It's a métier that deserves to be cherished much more.
The independence
I'm not ready to sell my soul to the devil :), but if it's a beautiful devil, who knows? ... After all, our brand is too small and young to interest a very large company. Yet, developing a brand requires substantial financial and strategic resources.
The thought of letting this brand spend its entire life on a shelf doesn't make me dream. The shelf isn't the environment that will allow to reveal the spirit of the brand. My desire is to have an environment where I could express myself and, for that, we need the right means.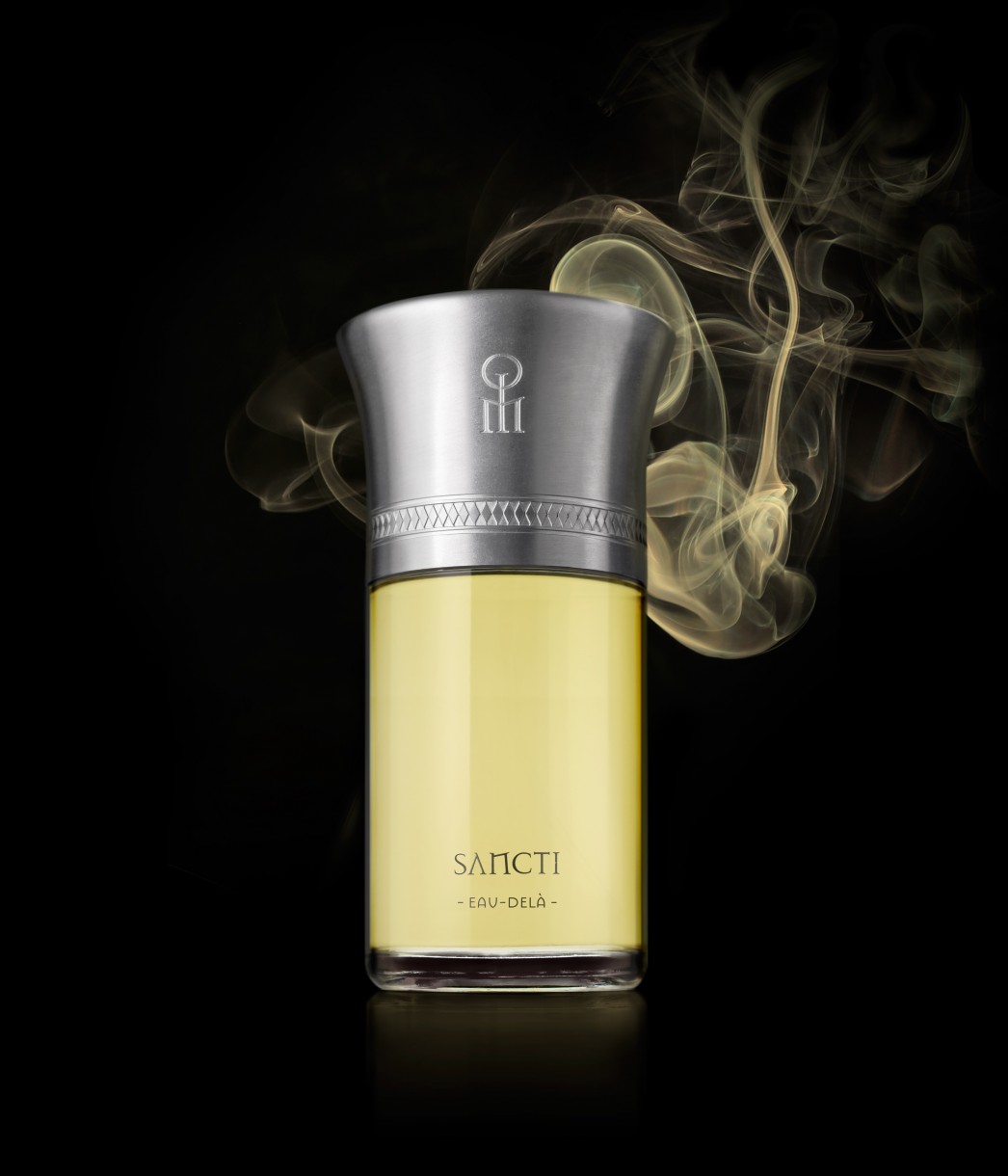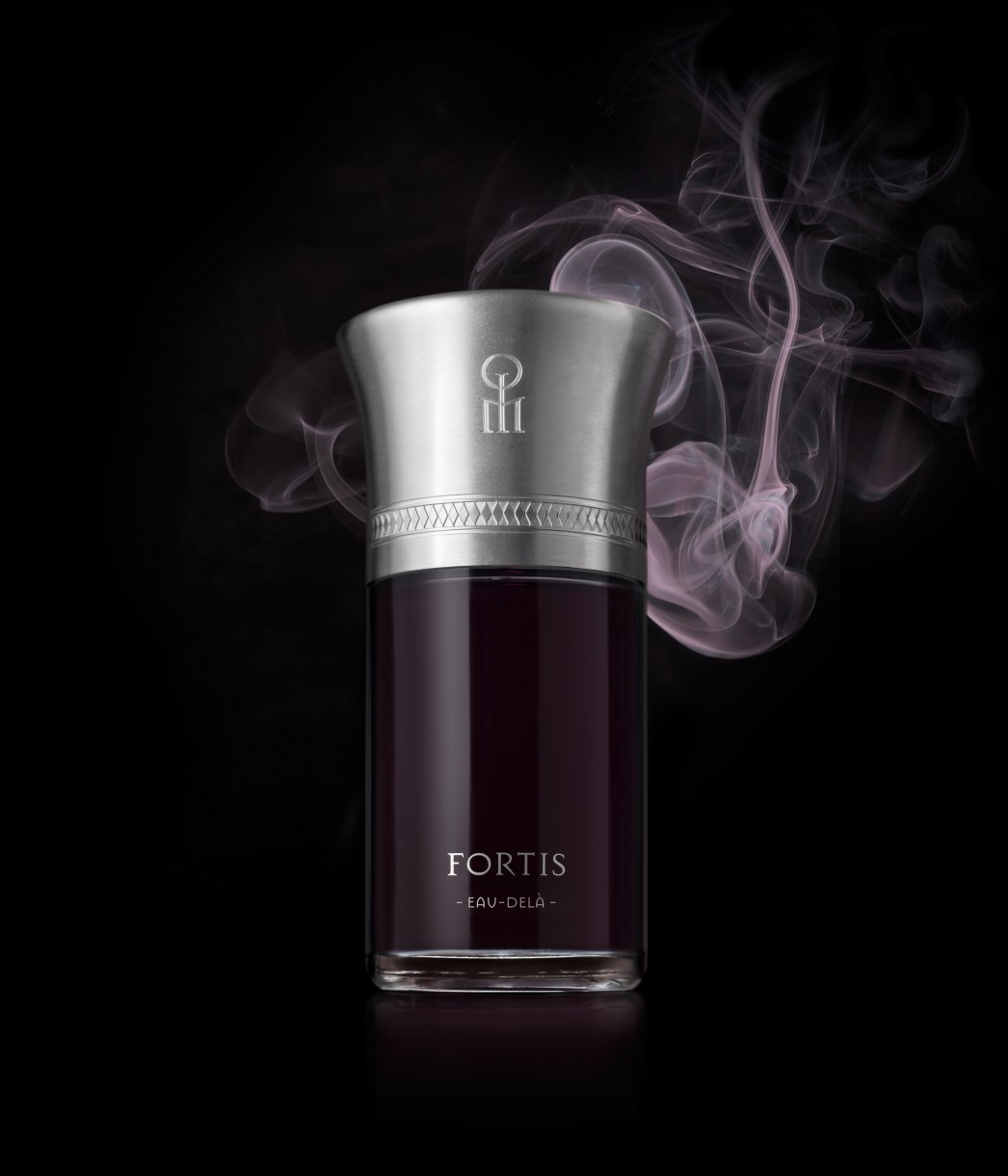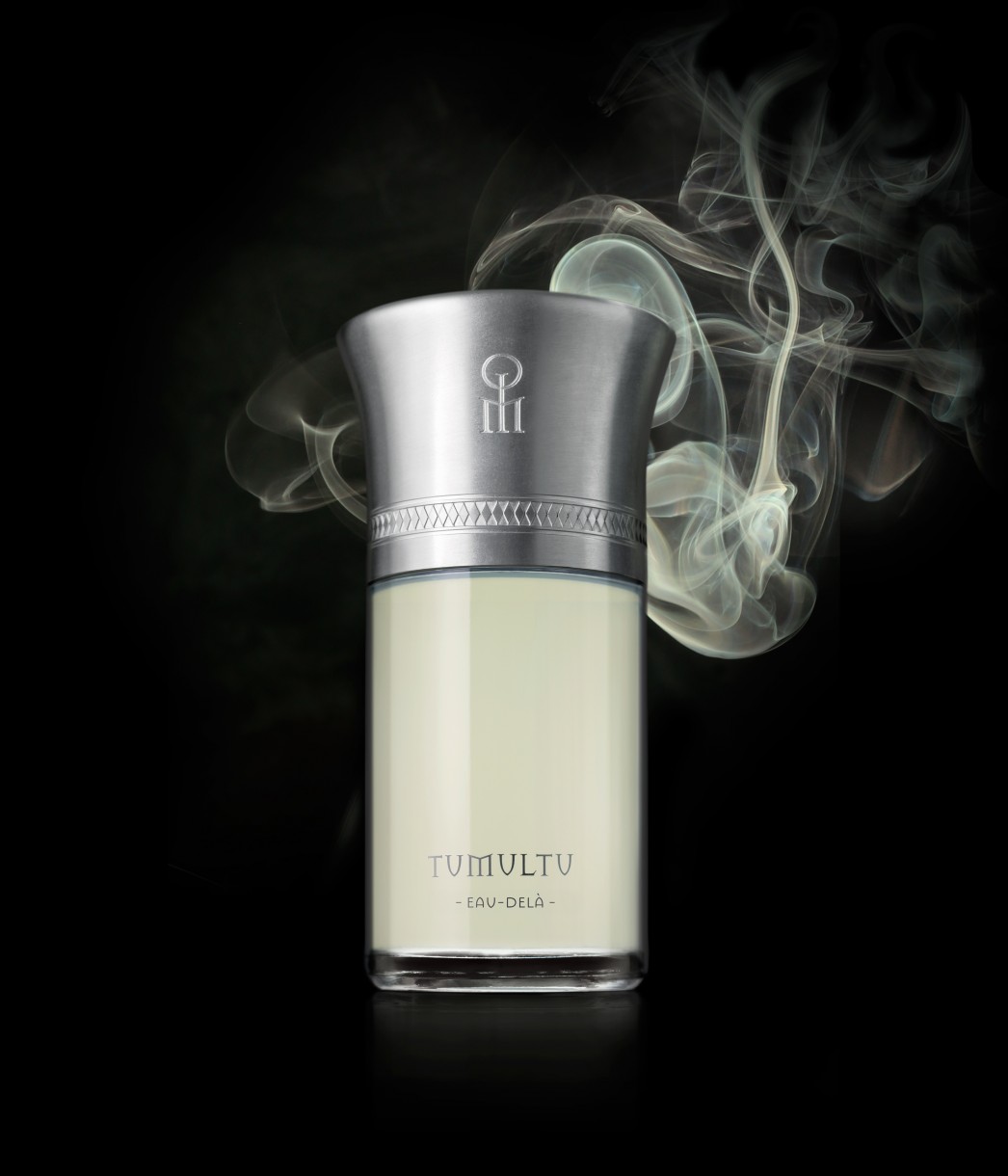 Links and credits:
The official Liquides Imaginaires website.
The address of the Liquides boutique: 9 Rue de Normandie, Paris.
Interview realized in French by Faurar. Images courtesy of Liquides Imaginaires and Philippe Di Méo.
© Faurar