Jul et Mad Paris, love against all odds
Once upon a time…
The odds were slim to none that Mădălina and Julien would ever meet one day. Their paths seemed tidily drawn, far-off from one another.
Mădălina comes from a mountain town from the heart of the Romanian Carpathians. A well-kept place where time moves slower than in the rest of the universe, where people still live in simple ways, close to nature and to each other. Meant to become an educator, Mădălina's life made an unexpected turn after she graduated a specialized pedagogical high school: she moves to the US, where, to make a long story short, she came across advertising, communication and... perfumes. It was actually thanks to a scholarship from the University of New York's Fashion Institute of Technology that she came to Paris in the early 2000, for an internship in the fragrance industry.
Meanwhile, somewhere in a parallel dimension, on another planet, Julien had a very different childhood. Born in Paris, by the time he was 18, he had already traveled far and wide around the world. After a Master's degree in Neurosciences followed by a Ph.D. in Biology, Julien decided to quit the research on sensorial mechanisms of the brain, in order to dedicate his career to new technologies and communication, field in which he founded several science-oriented communication companies.
Against all odds, their destinies, paths and glances crossed one evening in May 2004, in the St. Germain neighborhood in Paris. Although after this serendipitous moment they continued to live separate lives in New York and respectively Paris for one more year, their second encounter in 2005 was pivotal: Julien took Mădălina on a surprise journey to Venice where he proposed her. And the rest is history: they soon got married and lived happily ever after... or, to be more factual, until present day, when their love still sounds just as unbelievable and wonderful as it was 14 years ago.
The JUL ET MAD Paris brand is the book of their love, written with olfactory notes instead of letters, in chapters that retrace the mysterious and inexorable forces that brought them together, always closer and closer.
The following lines present Mădălina's views about JUL ET MAD Paris, about the value of independence and honesty as business guiding principles. Mădălina's natural generosity and gift for storytelling transformed a simple interview into a 3 hours vibrant dialogue. The interview was conducted in Romanian, which may have triggered deep connections, emotions and a particular voluptuousness of words, which can only be attained when speaking one's native tongue.
Places and sources of inspiration
Făurar: Many of the JUL ET MAD Paris perfumes are drawing the map of your love story, highlighting key moments and experiences. Talk to us about your passion for travel and other shared interests.
Mădălina Stoïca-Blanchard: We both love the contact with genuine places and things. It is for us a way of getting in touch with reality. We realize that we are among the most privileged people on the planet. So, from time to time, we need to get down to earth. Even growing up in a country under a totalitarian regime, in an age of scarcity, we had access to a certain standing that has nothing to do with how many people still live today in many regions of the World. For instance, in Myanmar, a country we visited for the first time two years ago, we had an amazing experience, despite the overall modest and difficult conditions. There were no tourists, just authentic people... we were touched by their genuineness and their way of being, as they weren't subverted yet by the worldwide consumerist culture. We came back from there with a different vision. This is what we are searching for, this is what binds us together.
Which are your "power places" – the places where you charge your batteries?
I have three places where I charge my batteries, depending on the need.
Annapurna, Nepal, at 5000 m above sea level. Each time we go there it's a unique experience, sometimes depicted from a David Lynch movie. Surrounded by few local people, very modest, exploring places where no tourist has ever been, in an extraordinary environment and landscape. There's nothing more inspiring that the immensity, the magnificence and the greatness of the Himalayas...
Marrakech, our secret paradise, which inspired one of our creations, "Secret du Paradis Rouge". What I like about Marrakech is the contrast between the streets' hullabaloo, noise, the ubiquitous clamor, and the absolute peacefulness of the interior gardens. You open a door and suddenly you enter a quiet paradise. It's the same with people. Although the Moroccan people are very tactile, nosy, prying, the beauty of the Maghreb soul is unparalleled. They are generous, warm, welcoming. Frenzied on the outside, serene on the inside.
Valea Mare-Pravăț, in Romania, at home. I love going to Romania for holidays, especially in the village where I grew up, Valea Mare-Pravăț. There we still have a tribal system [laughs]. All the neighbors are a big, united family. Everybody knows about everybody else's joys and sorrows. If someone is in need, the neighbors come and help, unconditionally. One thing that shocks any "outsider", such as Julien: our door has never been locked with a key. I think that our neighbors don't use a key lock either, because each time I visit them, their door is never locked. It's a unique human environment. Each time I go home, I feel like I've never left that place. I find myself there, and "home" will always be "home".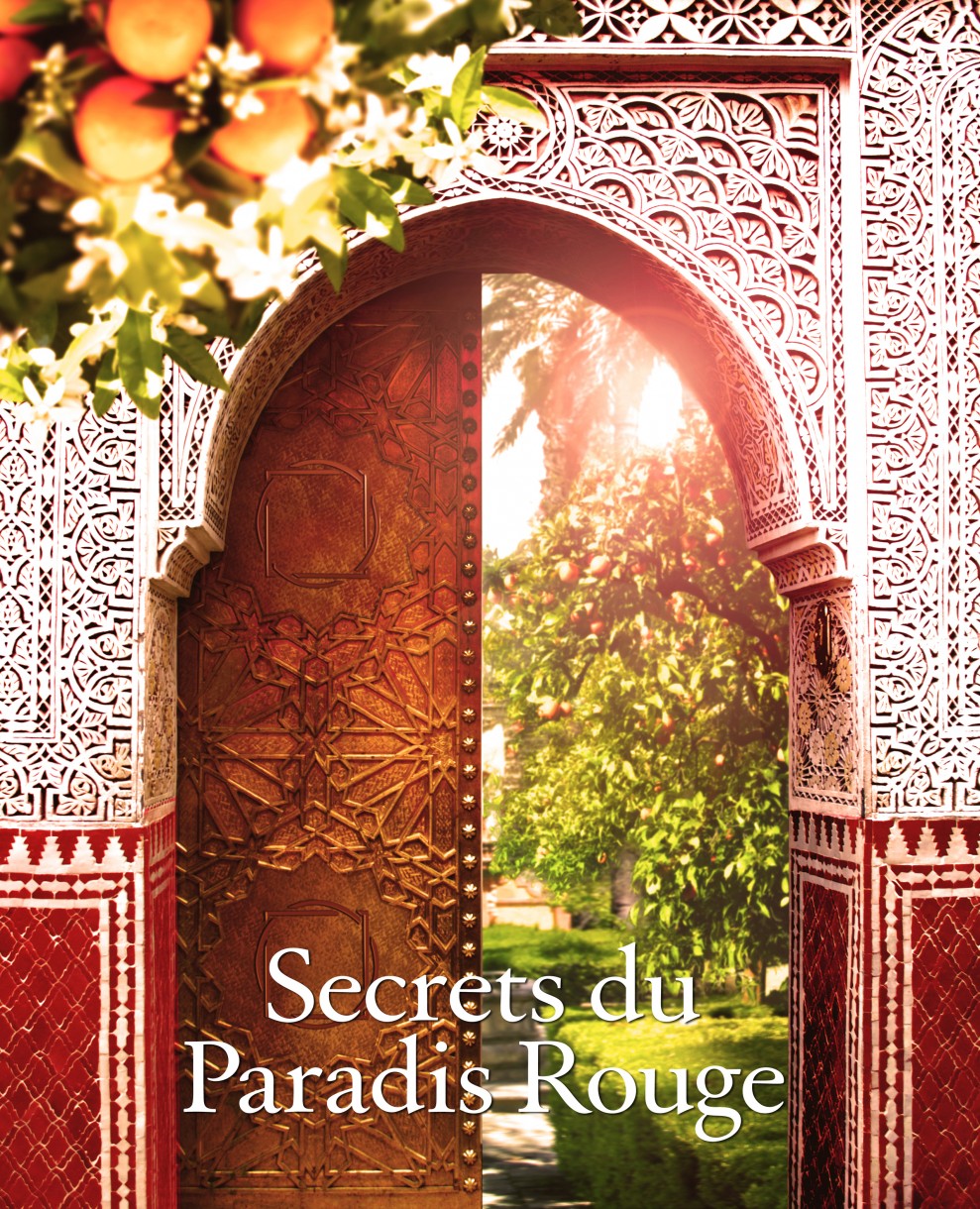 What do you think about place brands such as France, Paris and Grasse from the perfumery business point of view? Is Grasse still the "capital of perfumes"?
Personally, I wouldn't call Grasse "the capital of perfumes". Today, this capital could be Paris, Milano, London or other cities of this magnitude. In the perfume business, the central and historical hub is France, undoubtedly. In perfumes, Paris' supremacy remains unchallenged, contrary to what's happening in the fashion business.
Regarding Grasse, because of the global mobility, all the major companies have pushed their headquarters to Paris, which is much more accessible. Despite this "mass migration", Grasse still is the heart of the raw material industry for perfumery. Only at Grasse we can find certain materials and crops, such as the May Rose (Rosa centifolia), which only grows in the surroundings of Grasse. It doesn't matter if a house is based in Milano, London or Paris, because they all make use of raw materials coming from Grasse.
How important is the "Paris" endorsement for the JUL ET MAD brand?
Many brands make use of the "Paris" particle as a prestige endorser. However, JUL ET MAD Paris is one of the few international brands – we can count them on the fingers of one hand – who actually has the right to officially use the "Paris" particle together with the brand name. We are very keen to "Paris", but it has become so generic and almost anodyne for both final consumer and industry insiders, due to its abusive usage, even by brands that have nothing to do with Paris. Legally, they don't have the right to use it, but is's so common that no one even questions if they are entitled or not. We are proudly Parisian, not only French.
THE MARKET REALITIES
How do you deal with the pressure coming from the large groups?
The artistic perfumery – I don't like the word "niche" – is today the sector who carries on its shoulders the entire perfumery business. While the prestige or selective segment (Chanel, Armani and all the well-known houses) is losing pace, the artistic perfumery displays a two-digit growth. This progress has enticed large groups such as Estée Lauder, Amore Pacific, Puig or LVMH to acquire many niche brands, as a means to penetrate and eventually dominate the niche market. We are witnessing today a huge wave of acquisitions. The big battle in the artistic perfumery is now between these large corporations that I've just mentioned. Estée Lauder's portfolio includes brands such as Tom Ford, Fréderic Malle, By Kilian, Le Labo, Atelier Cologne, Jo Malone... when we enter a niche perfumery boutique, at least three quarters of the space is owned by Estée Lauder!
Whether we like it or not, this is the reality that we have to deal with. Our direct competitor isn't Frédéric Malle or By Kilian anymore, but Estée Lauder! We enter a paradigm where we are compelled to play by the same rules as them. Luckily, I come from that industry and I know which are the limits. If we want to survive, and, more than that, to thrive and prevail, we have to earmark large budgets for communication purposes and sampling. Yes, the sampling is mandatory for entering commercial spaces. Each of our creations uses rare perfume extracts. We're talking here about something extremely precious, exclusive, of an almost private club of true connoisseurs who know the brand.
We find ourselves squeezed between two forces: on one hand, the global conglomerates force us to adopt their strategies; on the other hand, the market itself, the distribution channels. The challenge is to find the right balance which will allow us to nourish our rare, exclusive and first-rate stance.
How important is the independence for you?
Independence is crucial. We are 100% independent, we don't have any constraint or imposed restrictions – from identity and design to distribution and marketing strategy. The fact of being independent gives us the power to go at our own pace, to launch products when we feel the moment is right, without constraints nor compromises. In fact, our motto is "Perfume without compromises" and we stick to that. We have, of course, a clear strategy, we have a business to run, but from a creative angle we have absolute freedom, which gives us a tremendous leverage.
Is independence also a source of vulnerability?
Not really. Although it's terrifying what happens out there on the market, we are lucky to have a product able to generate loyalty. We have a solid base of loyal customers, who have been with us from the beginning. Maybe it sounds a little bit pompous, but many competitors come and ask for our advice.
Which are the perks and drawbacks of being bought by a large group? What do brands such as Annick Goutal, L'Artisan Parfumeur or Byredo, just some examples that come into my mind, win and what do they lose by being acquired?
The main and most obvious advantage is the gain of visibility, market share and prestige thanks to the access to bigger budgets. However, there is also the risk, I would say inevitable, of losing its soul and harming the pillars on which the brand identity was founded. As you have just mentioned, Annick Goutal and L'Artisan Parfumeur are proving this point, as they are in the process of discarding everything that made them initially famous, in terms of image, packaging design and so on.
Which are the key success factors for independent brands?
The product itself and the final customer. The client cannot be fouled. Maybe he can fall once for a pretty bottle, for a wily commercial speech... and buy the bate. If the perfume doesn't live up to the expectations it created, the client won't buy it again. There is, basically, a natural selection.
Of course, the client is curious and willing to try everything, but there is also more knowledge available today. Before, the industry was much more opaque and I'm talking about 10 years ago, not 100 years. No one knew the name of any perfumer, as the perfumers were never in the highlights. Most of the consumers didn't go any further than the advertising message. Now, the consumer is much more knowledgeable and he knows how to take a step back from the marketing speech and the image projected by the brands. They are expecting to be represented as individuals, not as someone else's projection. The entire information is public, the consumer is learning fast and we hope this will empower him to seize the differences.
Our own client is highly loyal. Our perfumes are classical, they tell stories that people perfectly identify with. This is the key. Quality, longevity and what the perfume itself conveys. Thanks to these three elements, our client knows that we will never deceive him.
Which are the next steps for JUL ET MAD Paris?
In order to keep up with the market's frantic pace, we have to keep on launching at a frantic pace too, although we try to go against this tendency and slow down as much as possible. Once again, I have to say that we don't create to "pollute" the market and physically push our competitors out of the shelves in the battle for commercial space. Our purpose is to create perfumes that inspire people, that have a soul. To answer your question, we have new projects in the pipeline and we know exactly what we'll do for the next two years.
As traditional Parisian house, we also envision the creation of an own distribution network, while staying focused 100% on perfumes. We're not interested neither in body products nor in cosmetics. It's something different. Our house will stay focused on perfumes.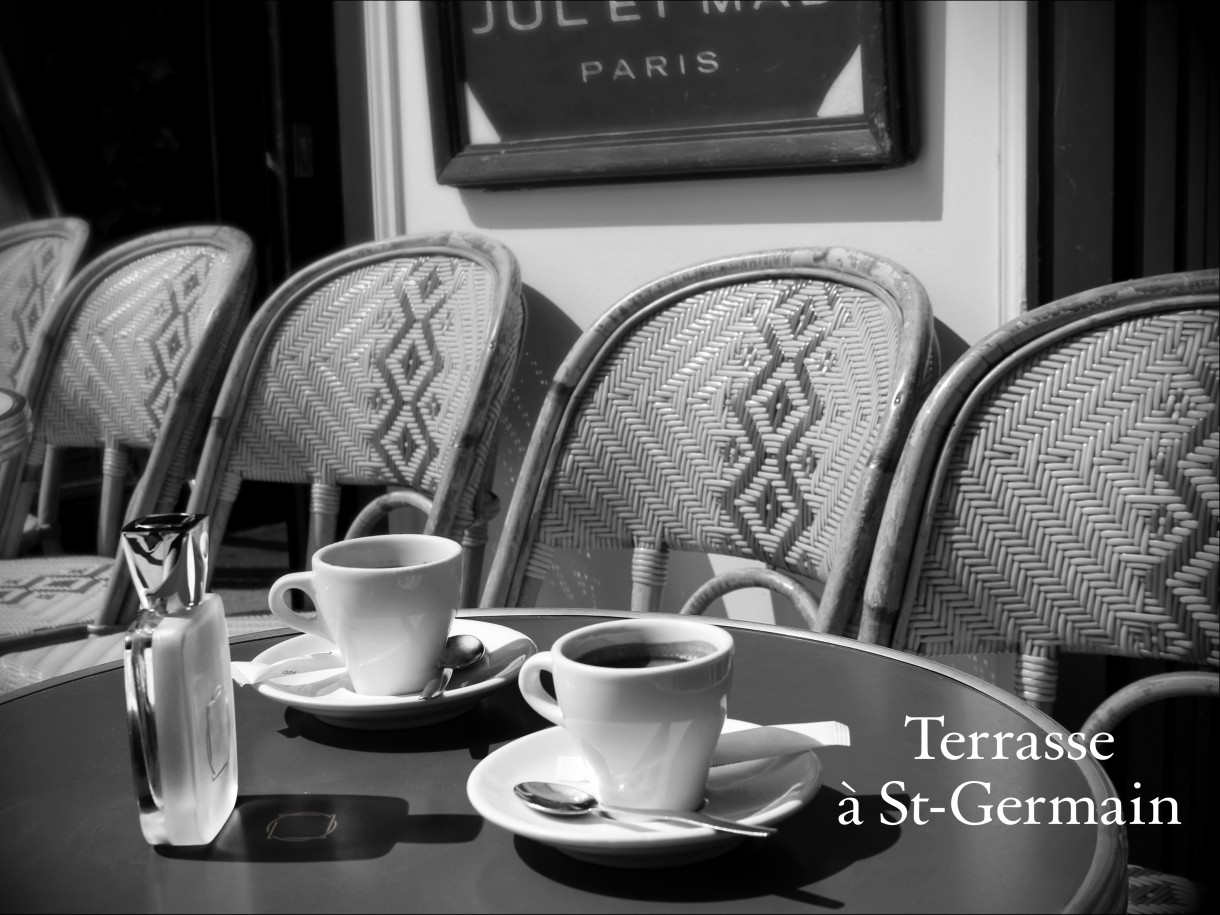 THE CREATION PROCESS
How does the creation process happen at JUL ET MAD Paris? Which are the different stages?
Thanks to our independence, each story, each product, from formula to packaging starts from us, Julien and Mădălina. The process is very simple. As soon as we decide on a story, I already know how the perfume should smell, what color it should have, I have a complete vision. This did not happen from one day to another: I have worked for 17 years in the industry before launching my own adventure, with a background of perfumer studies, which allows me to speak the same language as a perfumer and to clearly express the idea that underlies each creation. This facilitates the entire process.
First we choose the perfumer we will work with, then we present him the story and provide him with a detailed brief. After the briefing, the perfumer will present us the creative iterations. This is where I step in again and the creation becomes a four-hands concerto. I am in charge of the "olfactory evaluation", all the fine-tuning necessary to complete the composition.
How long does it take from concept to final product?
It can take two weeks or two years. It depends on the subject, on the composition, on the nose's inspiration. To give an example, for Nin-Shar we have worked with Maison Robertet's Sinodie Lancesseur – the master of the rose – and the entire process took almost two years. We were extremely exigent on the materials, we wanted to use the purest Turkish rose absolute, a brick-red paste, fundamentally a living thing. One single molecule can completely change the facets of the composition. To stabilize it and reach the envisioned result – our wish was to recreate the rose plant, from its roots up to the petals – it was an intense work! But without fake modesty, I believe that the result is up to our expectations!
In the meantime, Néa, our perfume that won The Art and Olfaction Awards in 2016, was perfect from the first attempt, without any single change.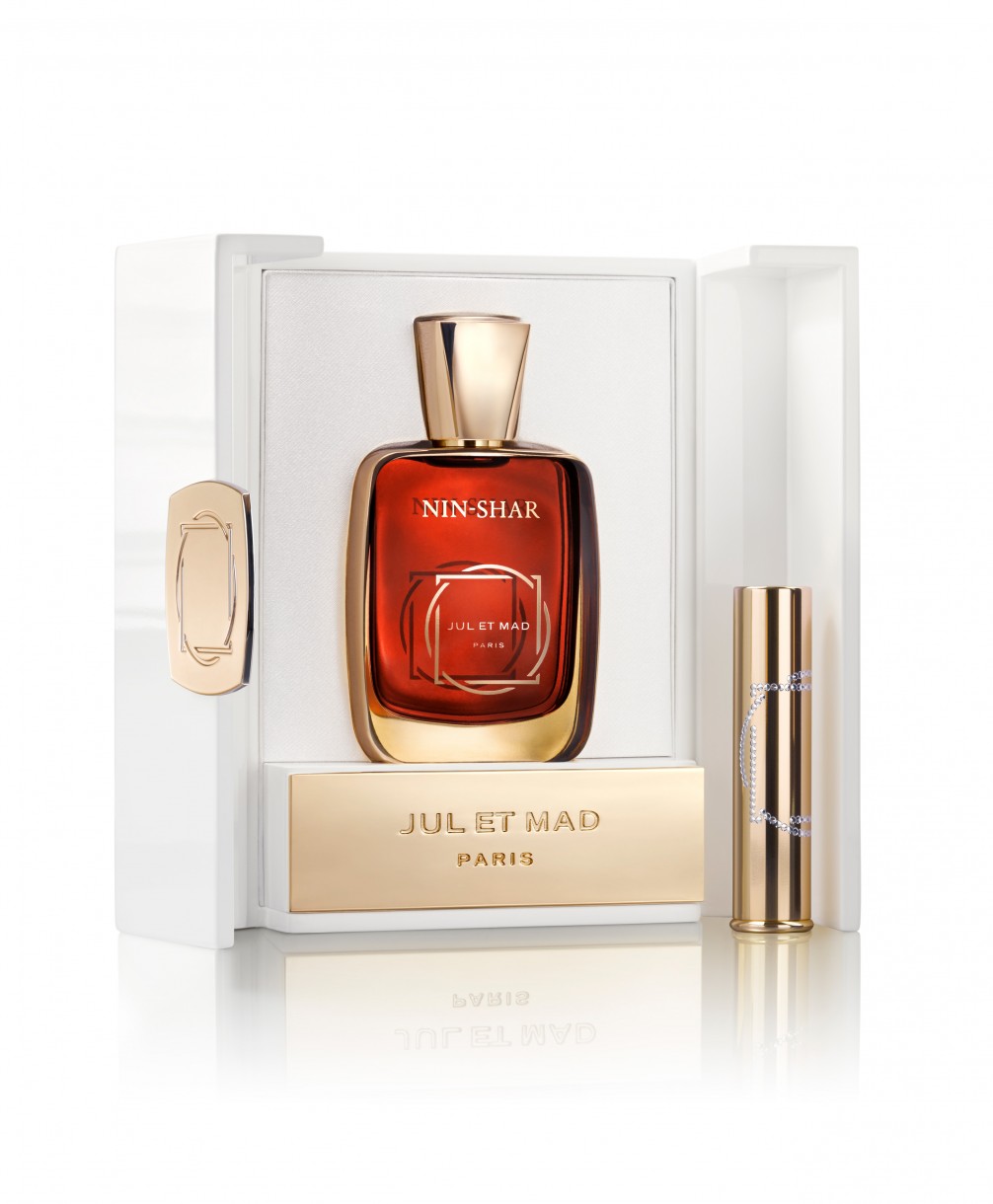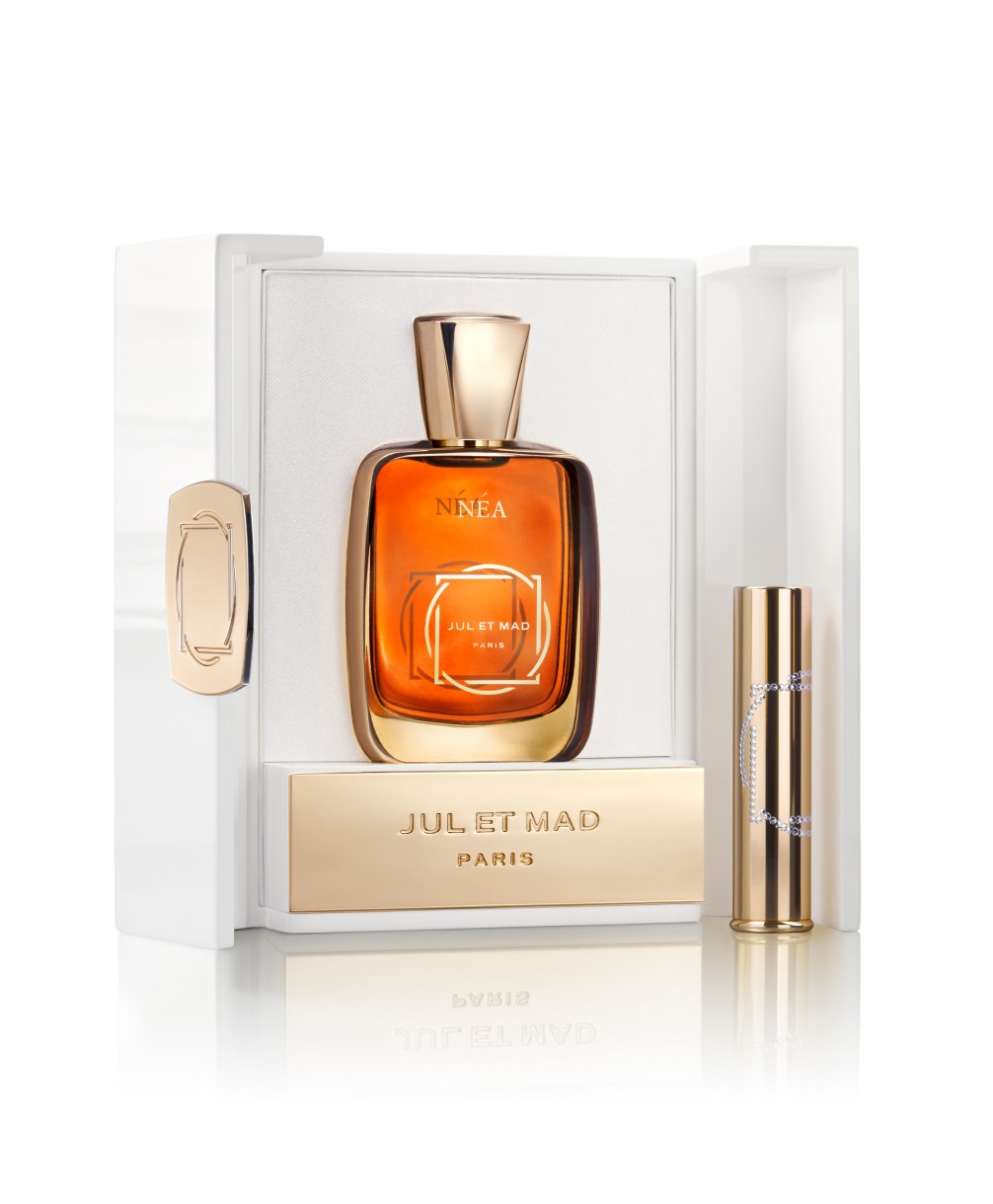 How is your range of perfumes structured?
We have two distinct collections, "The Classics" and "The Whites". "The Classics" is our initial collection, where each perfume evokes a specific episode or moment of our love story. Trough the years, intrigued by our story, people wanted to know more about the persons behind it, about us. This is how our second collection is born. "The Whites", inspired by our surname, dedicates each perfume to our individual interests and hobbies: art, history, travel, culture in general, which is part of our life.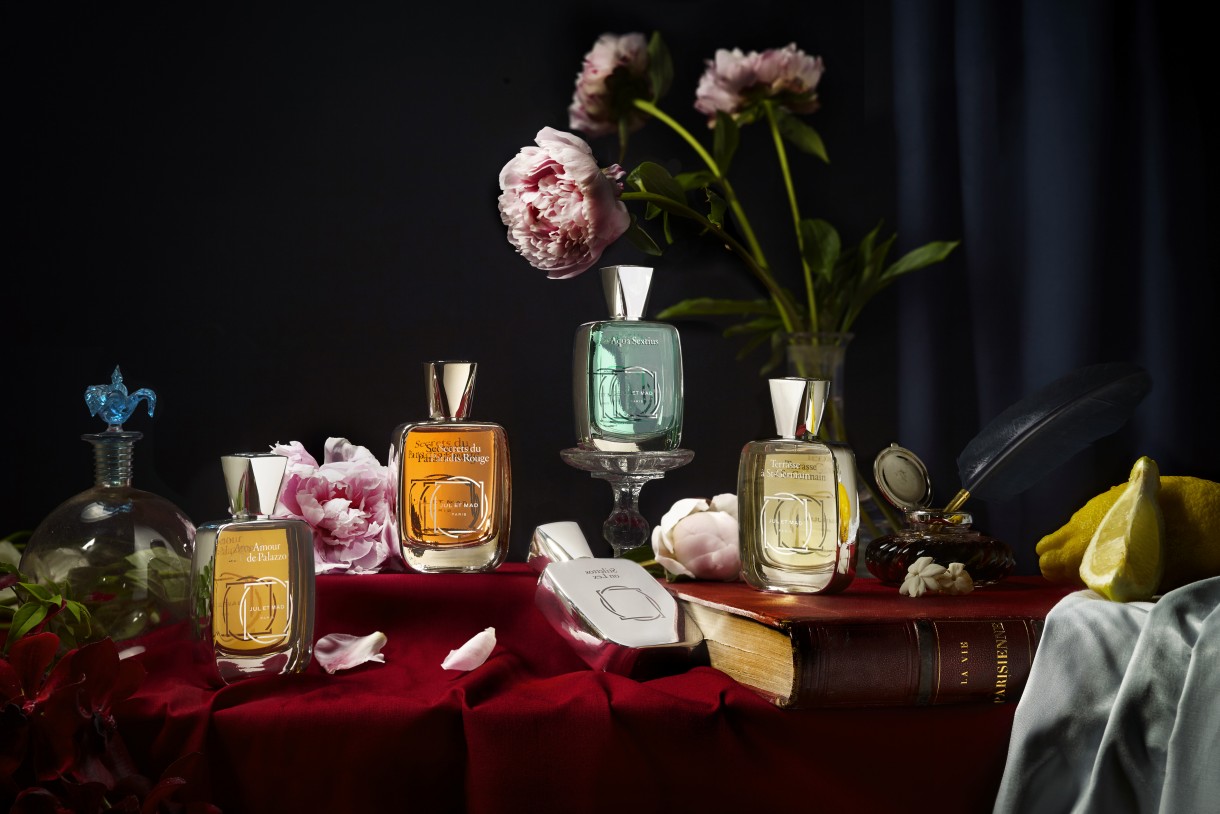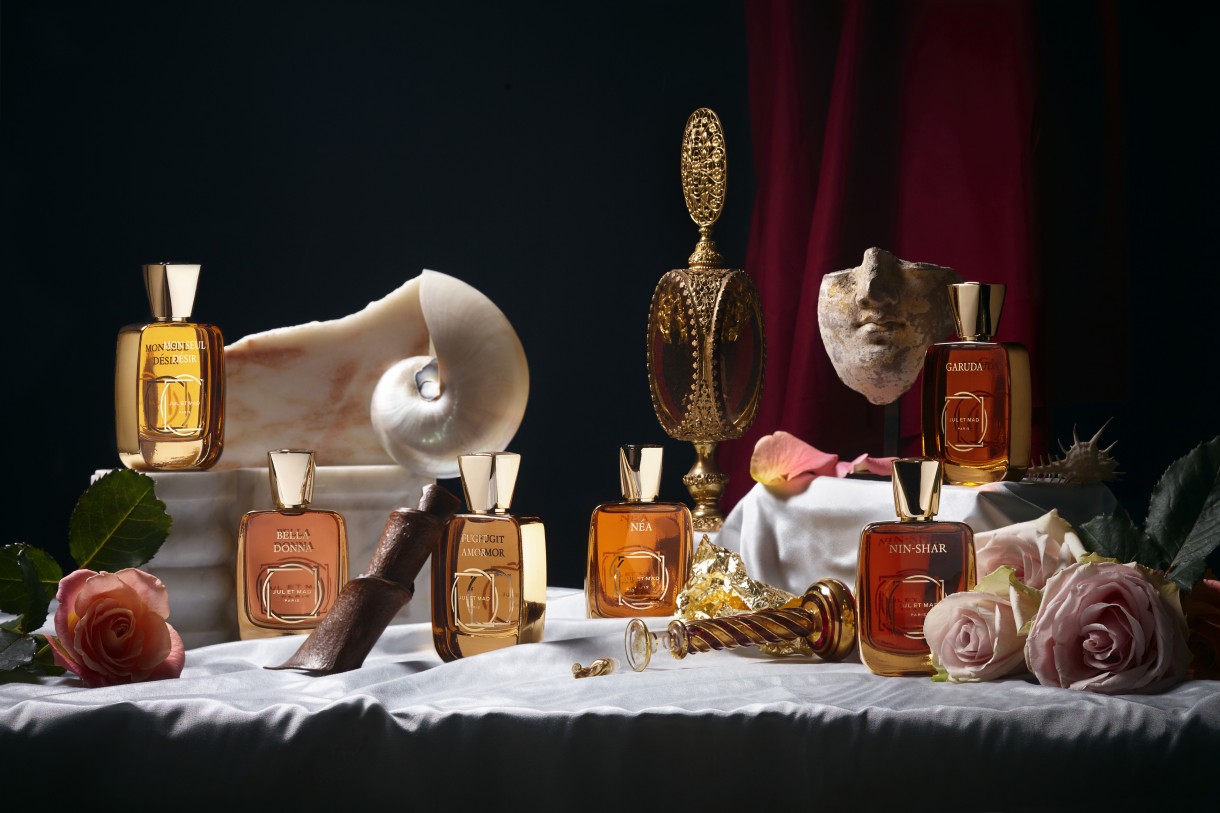 What exactly inspires and motivates you in what you do? Which are your sources of gratification?
In front of a perfume, we are in front of a work of art. Just like in front of a painting, we look at it and each of us has a different reading. That's why I encourage our sales people to ask the client about the emotions and memories triggered by the perfume, and not the other way round. I don't want our brand to impose a speech about the intrinsic quality or the notes that we have used. The answer is simple: it all comes down eventually to I like it or not! If we sell one product it doesn't mean that we've won a client. We win a client when that client comes back. It feels wonderful when we start a story and the person in front of us – journalist, business partner or final consumer – takes ownership over the story and continues it with his own experiences, in his own words... Or when a future bride writes us to let us know that she has chosen our perfumes for the wedding day... The most beautiful reward was when a client told us how one of our perfumes changed her life, in an extremely difficult moment...
Instead of conclusion
How much of yourselves do you reveal for the public?
We disclose many, many things about our story and ourselves to the public. :)
I see it as an act of courage.
Yes, it takes courage to do it, but it also puts a lot of pressure, because each element of our offer fully reflects who we are. It's our business card. Each element is a fragment of Julien and Mădălina, which explains our attention for every single detail. In the meantime, it is a point of difference compared to our competitors: the fact that our products are authentic, original, impeccable and exclusive. While many players on the market copy each other, we just unwind the thread of our own story, naturally. For a small independent house like us, the only thing we can control is to stay truthful to ourselves and never to compromise.
How would you define in one word the essence of the JUL ET MAD Paris perfumes?
Hmm, very hard... It's a mix of classicism and French luxury. Or, the "no compromise" philosophy, the fact of creating real, uncompromising products, this defines our ethos. So hard to say all this in just one word... Honesty! That's it! Because our perfumes are born out of real stories, lived by real people. Honesty is even stronger then authenticity and it empowers us to share and display our love on the world perfumery scene.
__
Links and credits:
The officiel website JUL ET MAD Paris.
Photos by JUL ET MAD Paris.
Interview initially realized in Romanian by Faurar at the JUL ET MAD headquarters in Paris, 120 rue Raymond Losserand.
© Faurar